Family Pets - Rocky Photos
These are all the photo's I have taken of Rocky since we got him. I hope you enjoy these photo's and if you click on any of them, you can see the larger image. Roll your mouse over any image to read more about it. He sadly passed away at the grand old age of 16yrs in December 2007.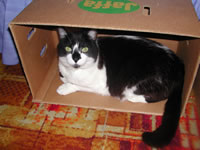 July-September 2001
More photo's will be added as and when I take them! Please visit again.
To view photo's of our families other cat (Rambo), please go to
Rambo's photo gallery.